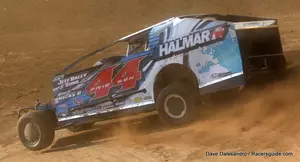 DIRTcar Super Dirt Series Big Block Modified Tour at 5 Mile Point Speedway
5 Mile Point Speedway/ Sandra Harvey
The best dirt track racers in the country will converge on Sunday  at Five Mile Point Speedway when the DIRTcar Super Dirt Series Big Block Modified Tour. Anyone who is anyone including a former champion that is currently on the Camping World Truck Series is coming to town for a 67 lap battle on the quarter mile oval.
One of the drivers competing is former two-time Five Mile Point Speedway Track Champion Stewart Friesen. Friesen is competing on the entire NASCAR Camping World Truck Series this season including a race tonight (6/9) at the Texas Motor Speedway in the "Rattlesnake 400" and then will fly here on Sunday.
Last year's race winner Matt Sheppard used the victory to vault himself to the Super Dirtcar Tour Championship. After nearly a month layoff for the Super Dirtcar Modified Series, the teams will be ready to get back to racing action.
Ryan Watt, was the winner of the last series event in early May. Watt is not a regular on the Super DIRTcar Series but has indicated he is making plans to be at Five Mile Point Speedway to try and go back to back with wins.
Five Mile Point Speedway is hosting the Super Dirt Series Tour for the 25th time. Joining the Modifieds will be the GRIT Series Crate Sportsman and the Xcel 600 Modified North Regional Tour and race 2 of the Fantastic Five FWD Four Cylinders.
Five Mile Point Speedway where kids 12 and younger are always admitted FREE and racing begins on Sunday at 7 pm.