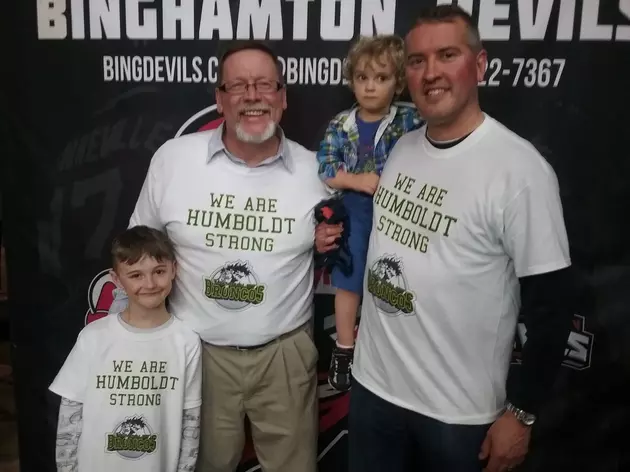 'Healing with Humboldt' Fundraiser at the Ice House Sports Complex
Glenn Pitcher
By now, you've heard about the Humboldt Broncos Junior Hockey team tragedy. A bus carrying the team to a playoff game collided with a tractor trailer, killing 16 people including 14 players and injuring 13 others.
Support for the families and the Humboldt community have been happening around the world and on Sunday, we'll do our part in our own backyard.
Your Local Hockey Moms are getting together with the Ice House Sports Complex for a 'Healing with Humboldt' fundraiser event. It's this Sunday, April 29th from 3 - 9 p.m. at the Ice House, 614 River Road in Chenango Bridge. (GPS: 614 River Road, Binghamton).
The proceeds will be sent to the Humboldt Broncos to use as a scholarship fund for future hockey players.
Here's the great part, admission is FREE and they will have an open skate from 3-5:30 p.m. with donations accepted. Don't have skates? No problem, they'll have skate rental available during the open skate.
My daughter Tara loves to skate and she'll be on the ice but her favorite part is the basket raffles. There will be over 15 raffle baskets for all ages, the drawing will begin at 7 p.m. and you don't need to be present to win.
There will be silent auctions including 1 Free Hour of Ice Time, a Jerry D'Amigo signed stick and more. There will be face painting, kids activities and a banner to sign that will be sent to the Humboldt Broncos to show our support.
There will be a special ceremony to honor the players at 4:45 p.m. including music by the Edward P. Maloney Memorial Pipe Band. It's a great time to get together with your kids because like the Humboldt community found out, you never know when it may come to a sudden end.
ALL ARE WELCOME! To see all the events and keep up with any updates, go here or call the Ice House Sports Complex at (607) 759-7560. I hope to see you there.