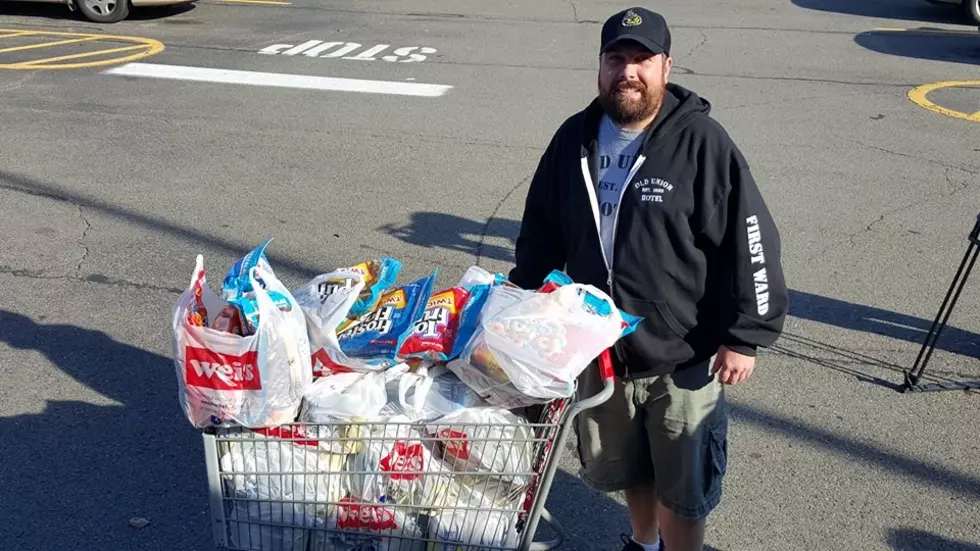 Binghamton Business Owner Puts Community on Notice
Andy Kipp, Old Union Hotel
One of the very best things about the Southern Tier is the way that our community rallies around its own when times are tough.
For over 20 years, radio stations 98.1 The Hawk, 99.1 The Whale, WNBF, Kiss 104.1, and 1360 CBS Sports Radio have joined forces with CHOW to host the single largest food drive in the Southern Tier, collecting non-perishable food to help feed our neighbors, young and old, who are facing hunger this coming winter season.
Our Food-A-Bago food drive has always been successful, but thanks to a man named Andy Kipp, we've been able to help even more neighbors in recent years.
Kipp owns the Old Union Hotel in Binghamton and a few years ago, he had the brilliant idea that he should fill a shopping cart with food, donate it to the Food A Bago food drive, and then challenge other business owners to match his donation by having us call them out by name on the radio. Just like that, the "Shopping Cart Challenge" was born.
What started as a challenge between business owners has morphed into something incredible and now includes churches, schools, law enforcement agencies, government officials, sports teams, and even individuals.
We'd like to join Andy Kipp and officially challenging you to participate in this year's "Shopping Cart Challenge" to benefit CHOW. Donations will stay right here in the Southern Tier and will be given to our neighbors who are going through rough times and need a little extra support.
How Your Donation Helps CHOW from Traci Taylor on Vimeo.
Our Food-A-Bago food drive will take place from 6:00 a.m. Monday, October 31 to 9:00 a.m. Monday, November 7. We'll be collecting non-perishable donations in the parking lot at Weis Market on Upper Front Street in Binghamton. Our donation hours will be as follows:
→ Monday, October 31 to Friday, November 4 from 6 a.m. to 6 p.m.
→ Saturday, November 5, and Sunday, November 6 from 8 a.m. to 6 p.m.
→ Monday, November 7- 6 a.m. to 9 a.m.
Don't have time to shop? You can donate cash or a check made out to Music for the Mission. For every dollar that you donate, CHOW will be able to provide FOUR meals!

11 Non-Food Items the Chow Warehouse Wishes It Had More Of
FOOD-A-BAGO 2020: Take A Look At How The Community is Helping Broome County CHOW!