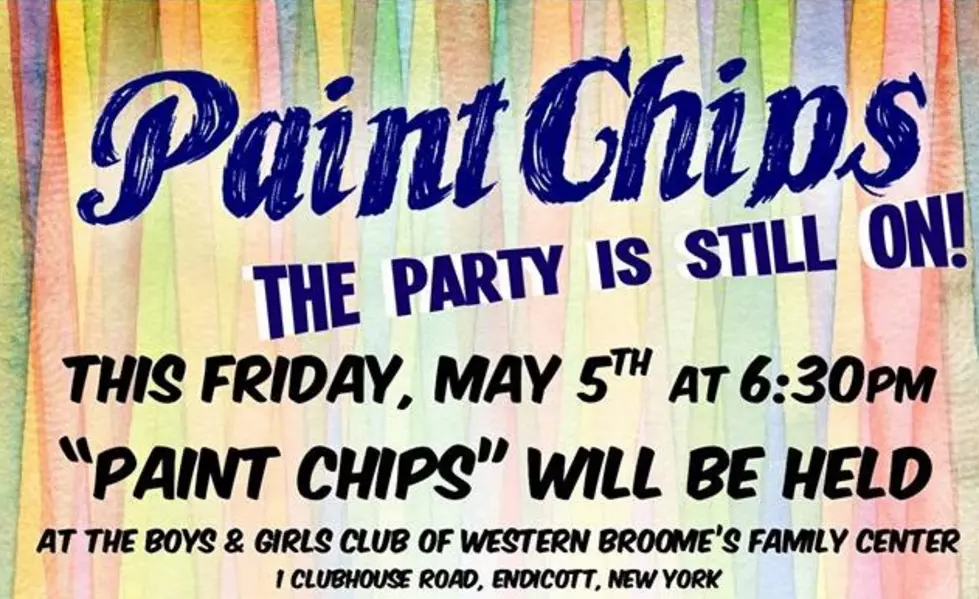 What's Happening in Binghamton
Jen O'Brien
Due to Monday's Storm the Magic Paintbrush Projects annual Paint Chips fundraiser for this evening has been moved to the Boys & Girls Club of Western Broome's Family Center in Endicott, 1 Clubhouse Road, Endicott, New York beginning at 6:30pm
Here are some other local events coming up:
The Magic Paintbrush Projects annual Paint Chips fundraiser is this evening at the Boys & Girls Club of Western Broome's Family Center in Endicott, 1 Clubhouse Road, Endicott, New York beginning at 6:30pm. The event will have fabulous games, fantastic food, lots of great prizes to win and a legendary silent auction. All proceeds will go 100% directly to their programs to support and engage special needs families creatively. Tickets are available, So please come, tonight, (May 5th) to Paint Chips at 6:30pm
There will be a benefit for Karen VanVoorhis, who is battling ovarian cancer, on Sunday, May 21st from noon to 6pm at the Hillcrest American Legion Post 1194, 363 West Service Road, Binghamton. Twenty dollar ticket includes food and beverages. There will also be raffles, 50/50, music, and a Legion Riders Poker Run for the Cause. Get tickets at the door.
Join Berkshire Farm Center and Services for Youth's foster care program at NYSEG Stadium for Angels in the Outfield's Foster Care Awareness Day, May 13th. Ceremony, parade and a Rumble Ponies game to follow at 1:05 pm. For more information visit Berkshire farm dot org.
Our Saviour Lutheran Church, 731 Hooper Road, Endwell, holds a Rummage Sale, May 13th from 9am to noon.
Join Chemung County Habitat for their 4th Annual Women Build event on May 13th from 9am to 3pm and help build a Habitat home. For more information and to register visit chemung county habitat dot org slash events.
Whitney Point American Legion Post 974, 119th Street, Whitney Point, hosts a Mother's Day Lunch and Flower Sale, May 13th from noon to three.
The Endicott American Legion hosts a Blue Velvet Big Band Dance, May 19th from 6:45 to 10:30pm.
Triangle Volunteer Fire Company hosts a Mother's Day Brunch, May 14th from 8am to 2pm at the fire station Route 206, Triangle, New York. This is a free-will offering.
North Fenton United Methodist Church, Route 79, Chenango Forks hosts a chicken BBQ, May 13th from 4 to 7pm.
The next Chenango Country Free Rabies Clinic is May 18th at Plymouth Firehouse, Route 12, Norwich. Donations are gratefully accepted.
Join the Cayuga Nature Center for a Mother's Day Hike at Smith Woods, May 14th from 1 to 2pm.
All caregivers are invited to attend an educational presentation entitled "When the One You're Caring for Won't Listen", May 16th from 1:30 – 3:00 PM at the Stay Healthy Center (near Sears) in the Oakdale Mall presented by the Broome County Office for Aging. Pre-registration is suggested; call Caregiver Services at 778-2411 to register.