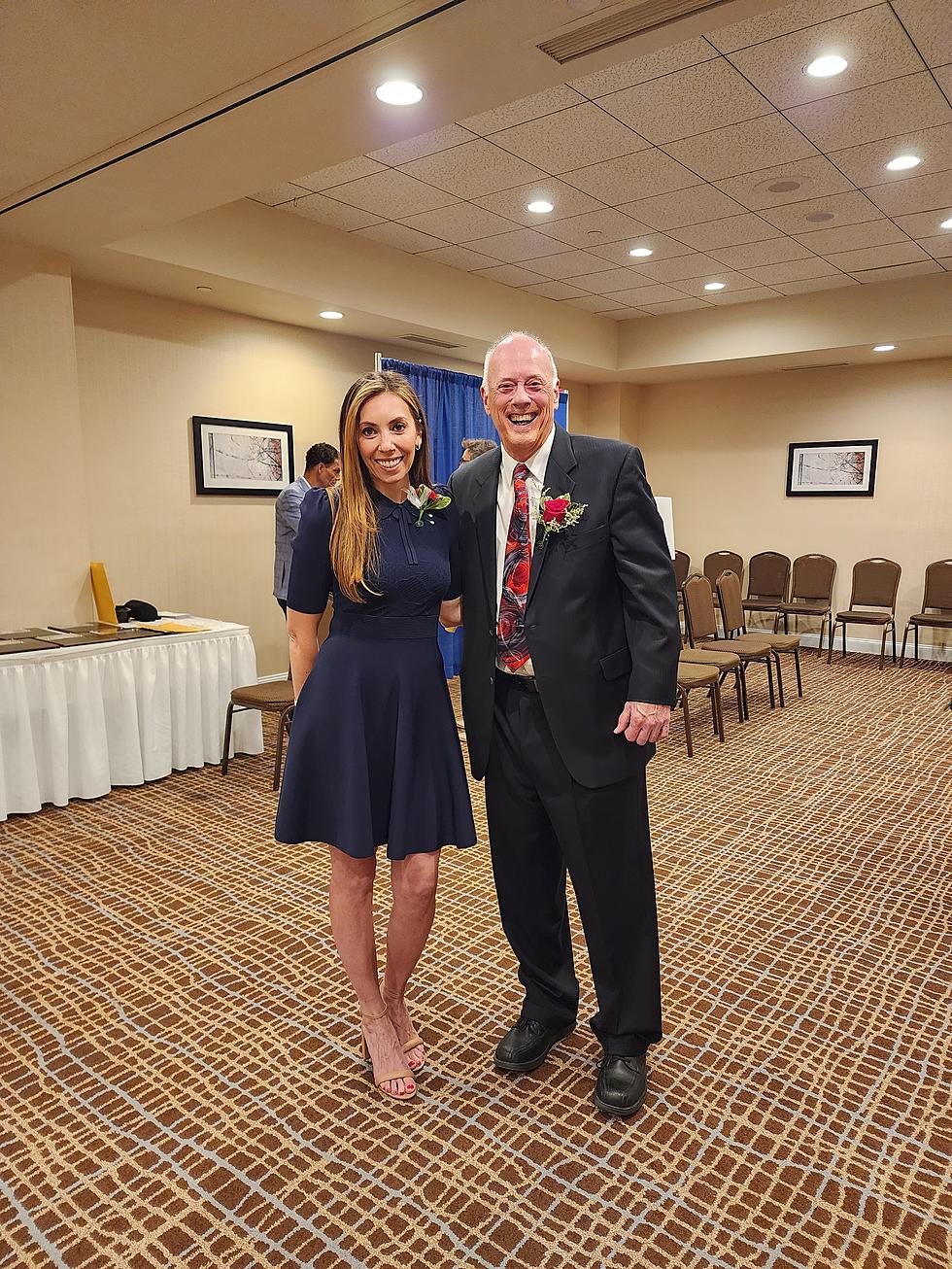 The Binghamton Sports Hall Of Fame Inducts 13 Into the Class of 2023
photo provided by Roger Neel
In March of 2023, the Greater Binghamton Sports Hall of Fame announced it's Class of 2023. Eleven local individuals and two teams were announced.
The eighth annual Greater Binghamton Sports Hall of Fame Induction Dinner was held on Monday night (April 24th) at the Double Tree by Hilton in Binghamton as the eleven individuals and two teams were selected for induction.
The HOF Facebook page lists the inductees as Tom Corgel, Ed Folli, Sandy Stone Sestak Forbes, Bobby Gonzalez, Lou Howell, Maggie Gray, Frank LoVuolo, William Rich, Bill Stepanovsky, Lura Wilson, the 1984/1985 Binghamton High Boys Basketball Team and the 1985/1986 Binghamton High Boys Basketball Team.
The keynote speaker was Jim Boeheim, recently retired head men's basketball coach at Syracuse University. Boeheim was the head coach of the Orange for 47 seasons.
The event was the largest in its history, a complete sellout with 500 people in attendance, according to 1290 WNBF Alumni Roger Neel who was on hand at the ceremonies.
Here are some of this year's inductees:
Lou Howell 
Longtime baseball coach and administrator. A former Binghamton Triplet catcher.
Tom Corgel
Long-time boys basketball coach at Binghamton High School.
Bill Rich
Head Women's Soccer Coach at SUNY Broome Community College entering his 26th season. Named the 2007 National Coach of the Year. Won three NJCAA National Championships.
 Bridget Baxter Orchard
Standout softball player at Binghamton High School and Villanova University. Currently head softball coach at Villanova
Bill Stepanovsky
Vestal native and boys and girls soccer coach who was named New York State Class AA  Coach of the Year in 2006.
Sandy Stone Sestak Forbes
Record-setting golfer throughout the region.
Ed Folli
Standout baseball and football player at U-E and at Springfield College.Longtime baseball coach at Union-Endicott and currently assistant baseball coach at Binghamton University
Tom Corgel, Jim Boeheim, Bobby Gonzalez
Bobby is a Binghamton native who starred at Binghamton North under Coach Tom Corgel. He went on to become head basketball coach at Manhattan College and Seton Hall University and is currently is a scout for the Detroit Pistons.
Maggie Gray is a Binghamton High School graduate and former 1290 WNBF intern. has been at the top of Sports Talk Radio including WFAN in New York City. She currently is heard nationwide as co-host of The Maggie and Perloff Show on the CBS Sports Radio Network.
1984/1985 & 1985/1986 Binghamton High School Boys Basketball Teams & Cheerleaders
Inductees along with Jim Boeheim
13 Incredible Places To Visit At Least Once In New York's Southern Tier
13 Incredible Places To Visit At Least Once In New York's Southern Tier
Binghamton Area Businesses That Closed In 2022
Binghamton Area Businesses That Closed In 2022