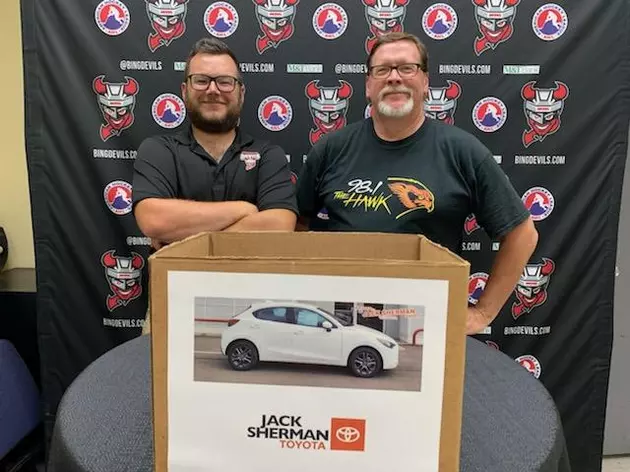 Car Giveaway With the Binghamton Devils Today
Connor Gates
Many things came to a sudden halt in March when the coronavirus pandemic hit including the sports world. Locally, we were disappointed when the Binghamton Devils season came to a premature end. They were the hottest team in the AHL and it looked like they were going to make the playoffs for the first time as the Binghamton Devils.
Enter your number to get our free mobile app
For me, I enjoy hosting Chuck-a-Puck between the 2nd and 3rd periods, especially when my daughters help me one the ice. So one of the questions that I've been asked is: Are they still going to give away the car?
The answer is yes and it'll be given away this afternoon, June 24th beginning at 5:30 p.m. at Jack Sherman Toyota. The Binghamton Devils did an online Chuck-a-Puck for the final six keys, in honor of the six home games that were lost.
Every dollar that was donated gave you a chance to win one of the six keys. Several people donated over $100 with one person donating $500. Here's the best part, all the proceeds from the virtual Chuck-a-Puck go to help rebuild the OurSpace Playground at Recreation Park.
All the money that was taken during the season will still go to the STHA and SUNY Broome and a presentation will be made today during the broadcast.
The six key winners were announced on Saturday and all the key winners will have a chance to win the car (via Zoom) beginning at 5:30 p.m. I'll be hosting the finals and you can watch all the action on the Binghamton Devils Facebook page. At this point, any action involving sports is welcome.
Peek Inside Billy Martin's Private Lake House