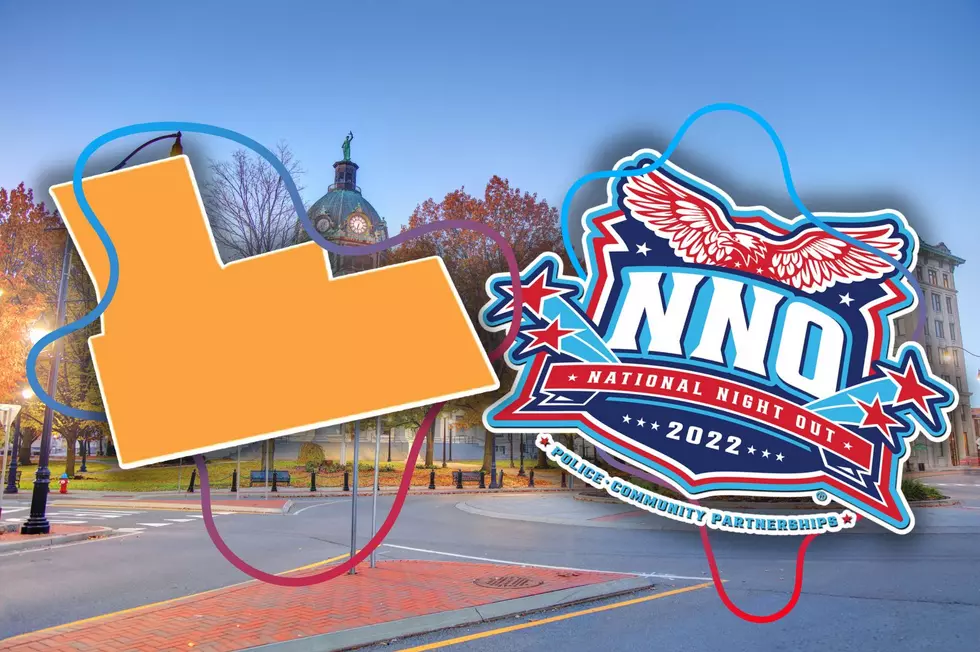 Where You Can Find National Night Out Events In Broome County
National Night Out/MapChart/Canva
National Night Out (NNO) is back on Tuesday, August 2 and many local locations will be participating. National Night Out is a nationwide annual event that supports local police and fire departments and brings the community together under positive circumstances.
Most states celebrate NNO on the first Tuesday in August with Texas (and select areas) participating on the first Tuesday in October. In total, over 16,000 communities across the country participate in NNO and this year's nationwide motto is "give drugs and crime a going-away party".
National Night Out Binghamton Locations
National Night Out has been in our area since 1996 and several locations in the Southern Tier will be participating on Tuesday, August 2. Multiple Binghamton City Parks will be participating including Cheri A. Lindsey, Fairview and Recreation Park.
There's another location that will be a part of National Night Out on Tuesday, August 2nd and I'll be participating with them as well. It's happening in Hillcrest on 126 East Service Road.
It's in the parking lot of NorthPointe Church, Iron Works, My Uncle's Place and Binghamton Honda. It'll be a homecoming of sorts for me as I'll be joining Pastor Kenny and his crew in front of NorthPointe Church.
There'll be food, face painting, popcorn, balloons, and games. I'll be one of the game masters, so stop by and test your skills and win fabulous prizes. There will also be demonstrating Fire Truck and Safety Awareness.
So when your driving on I-88 in the Hillcrest area on Tuesday between 6-9 p.m., if you see fire trucks and flashing lights, it's just National Night Out. Don't rubberneck but get off Exit 1 or 2 and stop on by.
National Night Out will also be happening at the following locations from 5-8 p.m.:
Cheri Lindsey Park, Binghamton
Recreation Park, Binghamton
Fairview Park, Binghamton
I hope you'll have a chance to stop by the place nearest you. I hope you'll also find the time to take a trip to Hillcrest too.
See the Must-Drive Roads in Every State
Find Stunning "Art in the Park" at These Great Upstate New York Sculpture Gardens
Many of us like nothing better than spending a rainy or snowy day haunting the halls of the many wonderful museums in Upstate New York. But on a warm sunny day nothing beats strolling the beautiful landscape of our regions awesome art parks and sculpture gardens Here are 9 of the best. Check them out!
16 of New York's Biggest, Widest, Oldest, Tallest and Weirdest Record Holders
While this list is not exactly the Guinness Book of World Records material, it does illustrate the Upstate New York can hold a candle to any place when it comes to setting unique records.
Here is a list of 16 of the biggest, shorted, oddest, longest, one-of-a-kindest, deepest, and weirdest factoids about our region.
If nothing else, this list will make a great conversation starter at your next get-together!
Read On! These Upstate Bars are 100, 150, and More Than 200 Years Old!
I like a bar or a tavern as much as the next person. But my enjoyment of the outing is heightened greatly if the pub has some interesting history to it. And it you are a century old, or even two centuries old, well, that bar will definitely have some great DNA behind it. Here is a list of a 14 great taverns, scattered all over Upstate New York, that have been serving up cold brews for a very long time, some more than 200 years. Obviously this list could be a lot longer, and we will revisit it in the future, but this list should adequately "wet your whistle." Have you been to any of these historic places?
Read More: "Order Up!" 26 Of the Best Diners in New York State
From the tip of Long Island to the tip of Western New York, the Empire State has no shortage of excellent diners. Some have been around for a decade or so, and some have been around for five decades or so. Most are mom-and pop diners that have been in the family for a couple of generations. It is always fun to eat at a diner and we submit that these 26 are just too good to pass up! Twenty-five of them are in Upstate New York but we had to put in a great and historic diner from New York City. They do have some great diners in the Big Apple!