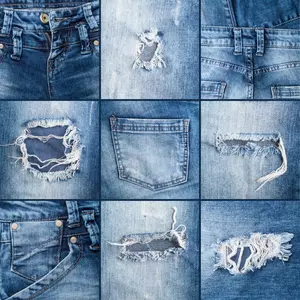 There's An Age When We Should Stop Wearing Denim Jeans?
ThinkStock
When it comes to fashion, I rate an 'F' for failure. It's not that I can't match a shirt with a pair of pants, it's just that I'm not into the look-to-impress thing as much as others may be.
At my age, I'm not trying to impress anyone with the clothes I wear. I prefer to wear clothes that make me feel comfortable. When I am at home, at the campground, or just running to a store to pick up some things, I prefer to wear a pair of shorts, a t-shirt, and crocks. Well, that's my go-to fashion just about anywhere that doesn't have to do with work or any type of dress-up affair, which by the way, I hate. A suit and tie are not my things.
I do prefer to wear jeans at work and during the colder months, but I just read about a survey that says there is a certain age that you should no longer wear jeans, I found that to be a bit odd, since I see people of all ages wearing jeans.
The article from the website 12 tomatoes (love that website name), mentions that a courier company in the United Kingdom called CollectPlus, did a survey of 2000 people, to find out at what age they felt people should no longer be wearing denim jeans.
The answer was 53. Really? Boy am I in trouble, and I'm sure everyone in the U.S. over 53 doesn't agree with that. But, the reasons weren't so much about a senior person wearing the jeans, it was more because of a few specific reasons.
Those reasons include having a difficult time finding jeans that are a good fit, not finding any that they liked, the stress of finding a good pair of jeans, and the pain of trying on several pairs of jeans before finding that perfect fit, or not. And if you buy them online, the chances of having to return them because they don't fit is a pain.
I have to agree with all of those reasons and to be honest, I hate trying on clothes in a store. I'd prefer to quickly look, buy and get out. regardless, even though I'm a bit over 53 (insert laugh here), I will continue to purchase and wear denim jeans.
via 12 Tomatoes
Seven Major Foods With Upstate New York Roots
FORE! Past Winners of The Dick's Sporting Goods Open
Small Towns In the Southern Tier and Central NY