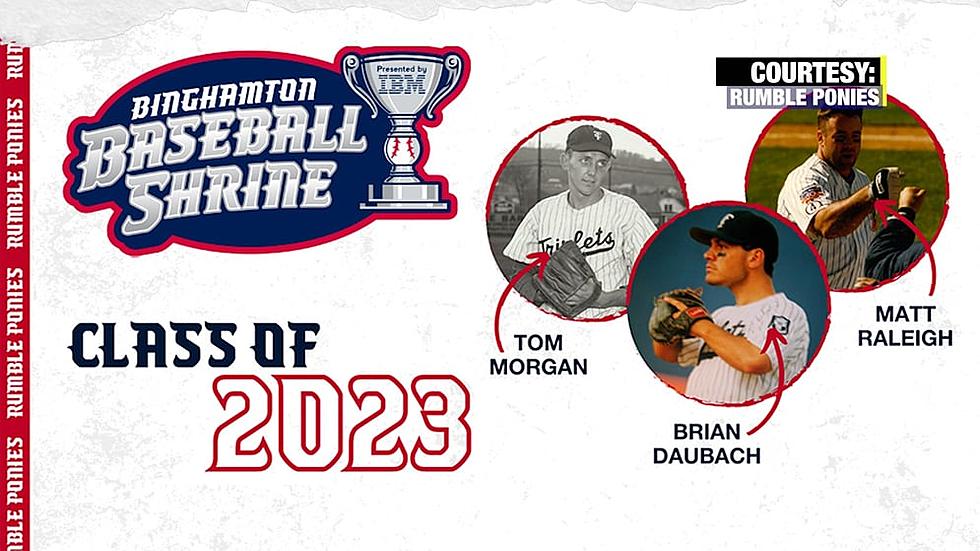 Binghamton Baseball Shrine Induction Ceremony This Weekend
Binghamton Rumble Ponies
The Binghamton Rumble Ponies are getting ready to roll into the playoffs and they are playing some of their best baseball right now. Last night, they were down to their last out, when Rowdey Jordan hit a two-run double to give the ponies a come from behind 2-1 victory over Reading...his third walk-off of the season.
Rowdey Jordan Walk-Off Double Win For Binghamton Rumble Ponies
They wrap up the regular season with their fan appreciation weekend with fireworks after the game on Friday. On Saturday, three Binghamton baseball greats will be inducted into the Binghamton Baseball Shrine
Binghamton Baseball Shrine Induction Ceremony At Mirabito Stadium On Saturday
After early for the induction ceremony for Brian Daubach, Tom Morgan, and Matt Raleigh.
Brian Daubach - He played for the Binghamton Mets in 1996 and played for eight years in the majors with the Marlins, Mets, Red Sox, and White Sox.
Tom Morgan - He was a Binghamton Triplet in 1950. He pitched for the New York Yankees and won back-to-back World Series titles in 1951 and 1952.
Matt Raleigh - He was a Binghamton Met in 1997 and 1998. He has the  when he had 37 dingers in 1997. He's the head baseball coach for Maine-Endwell and was instrumental in helping Maine-Endwell win the 2016 Little League World Series Championship. He also owns the Raleigh Baseball Institute in Endicott.
This is the 27th class with 81 members in the shrine. First pitch is at 6:07 p.m. and you're encouraged to be at the stadium by 5:40 for the induction ceremony. While you're at the game on Saturday, get your playoff tickets too.
The Rumble Ponies will
begin the playoffs
against the Somerset Patriots (Double-A Yankees) on Tuesday at Mirabito Stadium. You can get your tickets
here
, or at the ballpark this weekend. First pitch on Tuesday is at 6:35 p.m.
Binghamton Triplets Memorabilia
As We Get Ready For Binghamton's 30th Anniversary Celebration, Let's Take A Look At The 18 Greatest Binghamton Mets