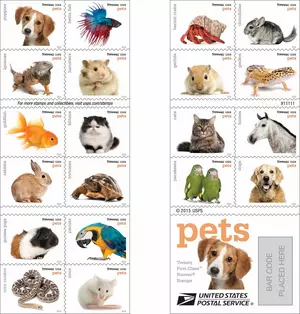 New Pet Stamps Coming to Binghamton Area Post Offices
Images from USPS
I think it's time to start writing letters again.  The USPS will be releasing 20 of America's best-loved pets on new stamps that will be landing at Binghamton area post offices in May.
You'll be able to purchase these new stamps at your local post office and the World Stamp Show in New York City, May 28-June 4th and from what I understand, admission is free.
Do you remember the shelter pet stamps that were released in 2010?  These 44 cent stamps were major best sellers for the US Postal Service and were created to raise awareness of adopting a shelter pet.  The stamps featured shelter dogs and cats and everyone of the stamp pets were quickly adopted.  It also greatly helped adoption rates here at our Binghamton area shelters like Project Paw, Happy Tails No-Kill Shelter, Broome County Dog Shelter, Humane Society and Animal Care Council.
Everybody loves pets and just about everyone should find their favorite on these new stamps featuring:  puppies, betta fish, iguanas, hamsters, goldfish, parrots, guinea pigs, tortoises, rabbits, kittens, corn snakes, mice, hermit crabs, chinchillas, gerbils, dogs, parakeets, horses, cats, and geckos.  Hey, everybody has a favorite pet.