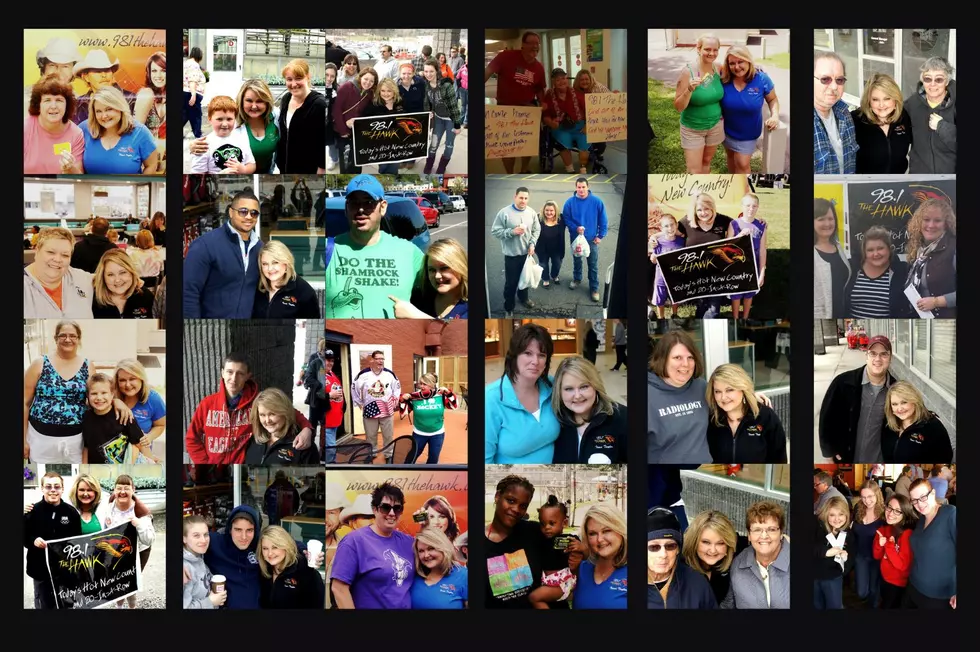 A Letter of Gratitude to Hawk Morning Show Listeners
Traci Taylor/TSM Binghamton
It's a running joke that because I've lasted with Glenn on the Hawk Morning Show years longer than any of his other partners I'm either a saint or a total glutton for punishment.
In reality, although we poke at each other, Glenn is one of my longest friends. Also, I've stayed because I have been embraced by an incredible community and I couldn't ask for anything more.
I often tell the story of a decade ago when I moved to Binghamton to be closer to my dad who was in the fight of his life against cancer. I signed a three-year contract with 98.1 The Hawk not expecting to stay in Binghamton for more than the length of my contract. Ten years later, I'm still here.
A funny thing happened - I fell in love with our community and its people. I realized that this area is where I wanted my family to plant our roots.
I fell in love with the genuine hearts of those who live in the Southern Tier. I fell in love with my co-workers. I made incredible friends. And for the very first time in this nomad's life, I didn't want to pack up and move someplace else. Here is where I wanted to be.
You've been with me through some of the most exciting times in my life - my engagement, marriage, and the birth of my son.
You've also been with me through some of the hardest times in my life - the death of my grandfather and my father's insane cancer journey. You've listened as I've poured out my soul, revealing my most vulnerable self. And, you've laughed along as I've shared the hilarious sitcom moments of my life.
Oh, the stories I could tell you about the antics of the Hawk Morning Show over the last decade but I'd rather tell you about the resilience and goodness of our community.
I have witnessed some truly remarkable things in my ten years in the Southern Tier. I've witnessed a community band together for an elderly resident whose riding mower was stolen. I've witnessed people with only two dollars to their name give one dollar to help feed another struggling neighbor through our yearly food drive.
I've bawled my eyes out each time you've parted with your hard-earned money to help save the life of a child with cancer. I've witnessed strangers come together for benefit dinners and fire victims, and to envelope the parents of a murdered little girl in love and fight for justice.
There is so much that I've seen in my years here and I'm excited to see what the next decade holds in store. Thank you for embracing my family and making these transplants feel like we've been here all along.
Thank you for laughing and crying with me and for ribbing me when I need it. Thank you for your faithfulness and for the conscious decision you make each morning to start your day with me and Glenn and all of our antics.
A Decade of Memories Made in the Southern Tier
As Traci Taylor celebrates a decade of waking up the Southern Tier, we're taking a look back at some special moments shared with Hawk Morning Show listeners. Take a look - you might spot yourself or someone you know!
Look: Glenn and Traci Through the Years