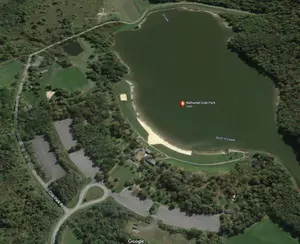 Broome County Winterfest Fun Is Set For This Weekend
Google Maps
We were saddened to hear that the (almost) annual Crappy Derby was canceled for 2022. While the thickness of the ice was good, in the 13 to 14-inch range according to a spokesperson for the Whitney Point Sportsman Association, the issue was due to the rain and warm temperatures the days leading up to the event.
You can read about the details in one of our previous articles on why the Crappy Derby had to cancel this year. It's an interesting explanation that has nothing to do with the thickness of the ice on the lake. Hopefully next year, the Crappy Derby will be able to return. It's been a very popular winter event in Broome County.
But winter isn't over yet, and neither are winter activities and events in the Southern Tier. In fact, this Saturday, February 26th, the 2nd annual Broome County Parks Winterfest will be held at Nathaniel Cole Park, on Colesville Road in Harpursville.
The event is free for everyone, and you can enjoy many events including activities like kids' activities, snowshoeing, music, food, guided hikes, interpretive walks, sledding, a bonfire, a scavenger hunt, a beer garden, and local organizations on hand.
Unfortunately, the fishing derby will not happen this year at the Winterfest. Events begin at 2 p.m. through 4 p.m. and snow permitting, you are encouraged to bring a sled. Snowshoes will be available for use.
For a complete schedule with the times of each event for the 2nd annual Broome County Parks Winterfest, visit the Go Broome County website.
via Go Broome County
CHEERS! The Best Snapshots From Binghamton On Tap 2022
Binghamton On Tap 2022 was one for the ages. Take a look at the best scenes from an AMAZING night!