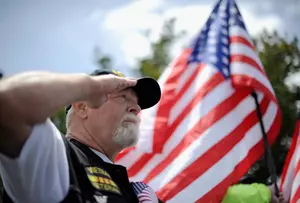 The Binghamton Devils to Honor Veterans All Season Long
Kevork Djansezian / Getty Images
The Binghamton Devils season is almost here. Their only preseason game is Sunday, October 1st against Wilkes-Barre/Scranton. Listen next week during the Hawk Morning Show to win tickets to that game.
The regular season begins on Saturday, October 7th against Bridgeport at the Floyd L. Maines Veterans Memorial Arena. Here is something else that is going on with the Devils.
They have teamed up with Ziff Law Firm to honor veterans at every home game during the 2017-18 season. Veterans who are chosen will get four free tickets to a game.
During the game, the veteran will be introduced and recognized for his or her military service. Veterans from across the Southern Tier, from Elmira to Binghamton, along with those from the Northern Tier of Pennsylvania, are eligible for the program.
Do you know a Veteran that you want to nominate? Go here and nominate them now. You can also send a message to veterans@zifflaw.com or call 800-ZIFFLAW (943-3529).
It's just one of many things that I'm looking forward to this season with the Binghamton Devils. See you on the ice.