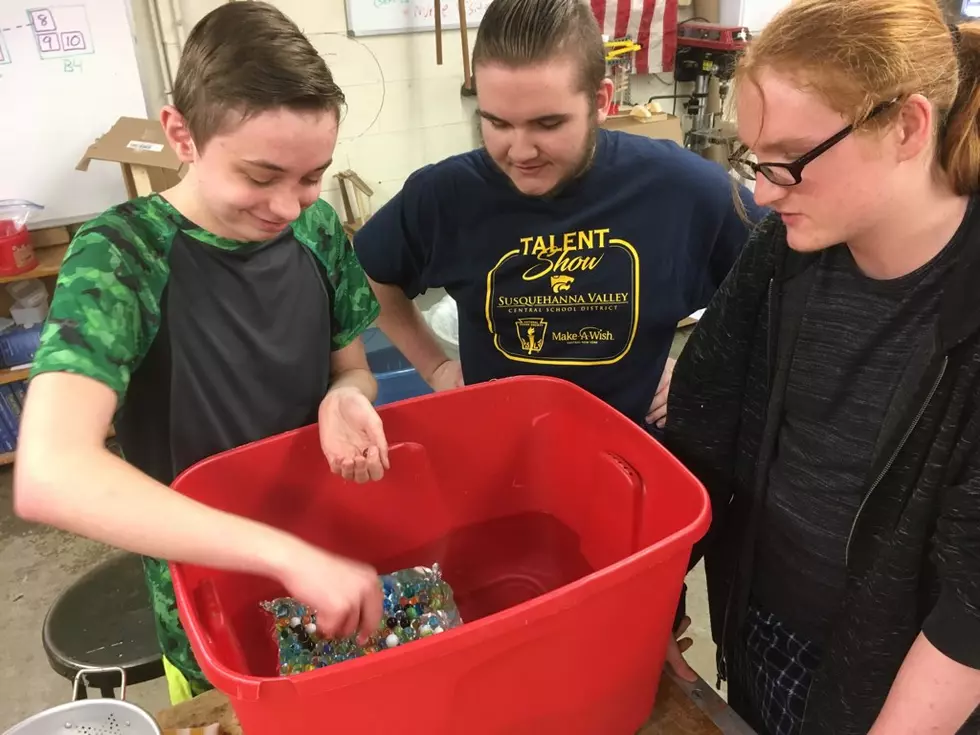 Susquehanna Valley Students Tackle Viking Day by Building "Ships"
Mr. Nick Oetinger, Susquehanna Valley High School
Thousands of years ago the Vikings considered the 8th of May the day they awoke from their winter slumbers, polish their shields, sharpen their swords, and set sail to visit friends and conquer lands.
To celebrate this holiday, Technology Education Teacher Mr. Nick Oetinger challenged his students to build ships that could hold the most marbles without sinking. In place of actual Vikings, students subbed in marbles. 
The 2nd Annual Viking Day Challenge took place this past Tuesday May 8th at Susquehanna Valley High School.
The technology education students were allowed to use nothing except a 12" x 12" piece of aluminum foil to construct their vessel. They could bend it, fold it, rip it and/or crinkle it to make the design they thought was best to hold the most "Vikings."
This year, Mr. Oetinger had 113 students and three fellow teachers take part in the 2nd Annual Susquehanna Valley Viking Day Challenge. There was a wide variety of boat designs, and a wide range of marbles the boats were able to hold.
This year's champion was Dan Wager. His vessel design was able to hold 453 marbles.
Wager almost doubled last year's winner Dylan Howe. Howe won the first ever Viking Day Challenge in 2017 with a vessel that held 248 marbles.
The 2017 average for Viking Day was 72 marbles held by a vessel and the range of marbles held was two to 248 marbles held. This year's marbles held average was 142 marbles, with a range of one to 453 marbles held by a vessel.
Congratulations to all Susquehanna Valley students on a successful Viking Day Challenge!