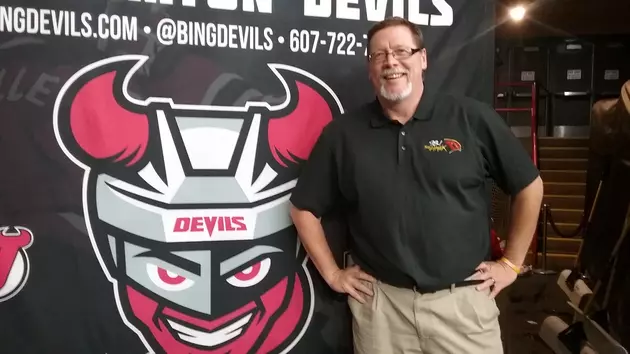 Preseason Dates Announced With the Binghamton Devils
Tara Pitcher
We are exactly two months away from the home opener for the Binghamton Devils against the Calder Cup champion, Toronto Marlies. There are many exciting things happening with the Devils including new head coach, Mark Dennehy. Read all about him here.
Here's some more Devils news, they've announced that they will play a home and home pre-season series against the Utica Comets. The Comets will host the Devils on Friday, September 28th at 7 p.m.
They'll take a trip back to the Floyd L. Maines Veterans Memorial Arena on Saturday, September 29th with the puck dropping at 7:05 p.m. If you are a full season ticket holder, they have a present for you....a free ticket to the game.
All plan holders can buy a ticket for the September 29th game for $8 advance or $10 day of game (one per/seat/flex pack.)
Everyone else can still get tickets for a reasonable $10 advance or $12 day of game. Call the Devils front office at (607) 722-7367 to buy your tickets now and go here to get the entire schedule.
With the temperatures around 90 today, it's hard to believe that two months from tonight (10/6), the ice will be down at the Floyd L. Maines Veterans Memorial Arena and I'll be hosting Chuck-a-Puck again and help giveaway another car.