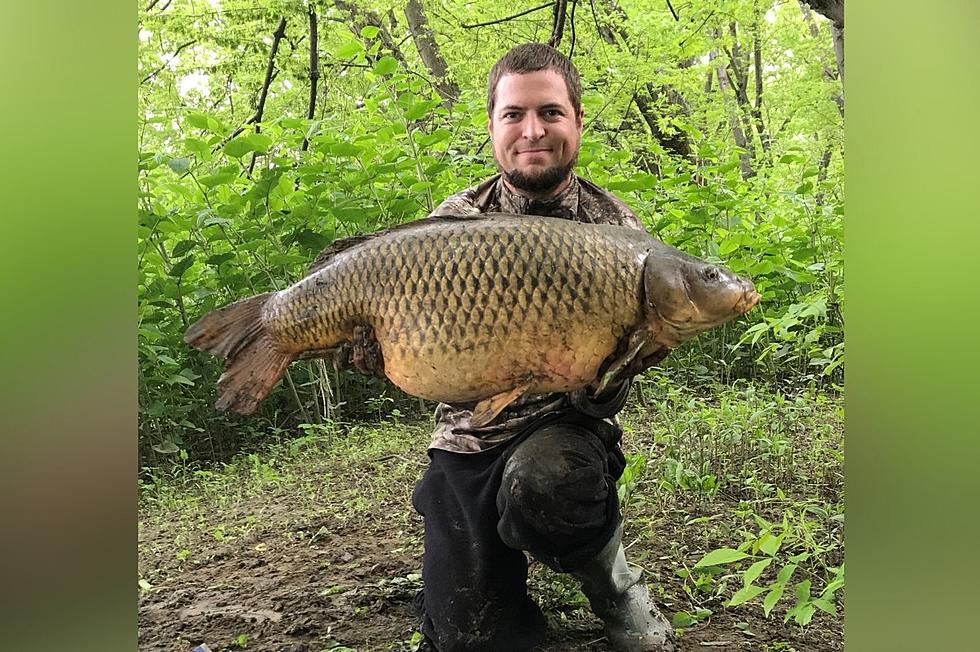 Newark Valley Man Lands The Catch Of The Day
Photo: Joseph Onofrio
Earlier this week, Traci and I were telling you about the New York State Free Fishing Days, happening on Saturday, June 26th, and Sunday, June 27th. It's a chance to fish on any New York State fresh waterway for free and you don't even need a fishing license.
My daughter, Tara really likes to fish and I'm hoping that she'll have a chance to take advantage of the free fishing days next month. Who knows, with some practice maybe she'll be as good as Joe Onofrio. So who is Joe Onofrio? I'm glad you asked.
Onofrio recently caught a HUGE 47-pound carp upstream from Owego in the Susquehanna River. on May 15th. Joe has been a fisherman for many, many years and we asked him what it takes to catch the BIG one.
Onofrio said that his main bait is doughballs and the key to catching the big fish is persistence. It took him over a decade of avidly fishing the river before he caught the 47 pounder.
Joe Catches Carp
He also told us that it was a 10-minute battle or so to reel it in and that she kept trying to wrap around a submerged tree, If the mighty fish had succeeded, it would have broken the line very easily.
It turns out that he's quite the catcher of the carp because last year he caught four that was just under 35 pounds. His goal was to break the 35-pound mark without breaking his line and he's finally done it.
This is one AWESOME fish tale and the best part, it's true. Congratulations Joe and good luck on landing the 50 pounder next.
KEEP READING: See the richest person in every state
Eight Places to Launch Your Boat in Broome County
How Many in America: From Guns to Ghost Towns
Can you take a guess as to how many public schools are in the U.S.? Do you have any clue as to how many billionaires might be residing there? Read on to find out—and learn a thing or two about each of these selection's cultural significance and legacy along the way.