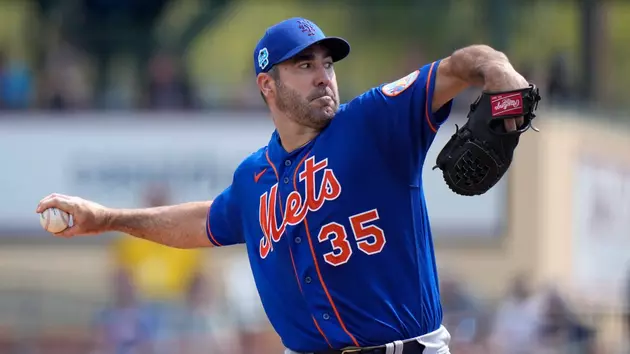 Justin Verlander To Make Rehab Start With The Binghamton Rumble Ponies
MLB Sports
Well if you're looking for a good reason to leave work early today, I have the answer. The Binghamton Rumble Ponies are playing at 1p.m. this afternoon because they want to beat the rainy weather that is heading our way tonight.
Here's another reason that you may want to go today. There is a future Hall of Famer that will be coming to Rumble Town today. When you've been at the ballpark, you may have seen the sign that say's "The Road To Queens Runs Through Rumbletown."
Road To Queens Runs Through RumbleTown
Sometimes it runs the other way and Queens comes to Rumbletown. Last year, future Hall of Famer Max Scherzer had a couple of rehab starts with the Binghamton Rumble Ponies.
Justin Verlander Makes Rehab Start With The Binghamton Rumble Ponies.
This afternoon, the three-time Cy Young Award winner (including last year) Justin Verlander will also be making a rehab start for the Ponies. The nine-time All-Star joined the New York Mets in the off-season and will take to the mound
The impending weather has pushed up first pitch to 1 p.m. with the Starting Gate opening up at 11:30 a.m. You can get your tickets ahead of time here but don't be late because we don't know how long he'll be on the hill for the Ponies.
If you can't make it to the game today, the Ponies continue their homestand at Mirabito Stadium against the Akron RubberDucks this weekend.
Saturday is Princess and Pirate Day at the ballpark and the weekend ends with Kids Eat Free on Sunday. If the weather holds, first pitch for both of those games will be at 1:05 p.m.
See you at the ballpark and remember that today's (4/28) first pitch has been moved up to 1:00 p.m.
18 Greatest Binghamton Mets
FROM THE SKIES: 24 Southern Tier Golf Courses From A Bird's Eye View
Check out the gold courses that participate in our clubhouse card from a satellite view. Some of them may be bigger than you think.