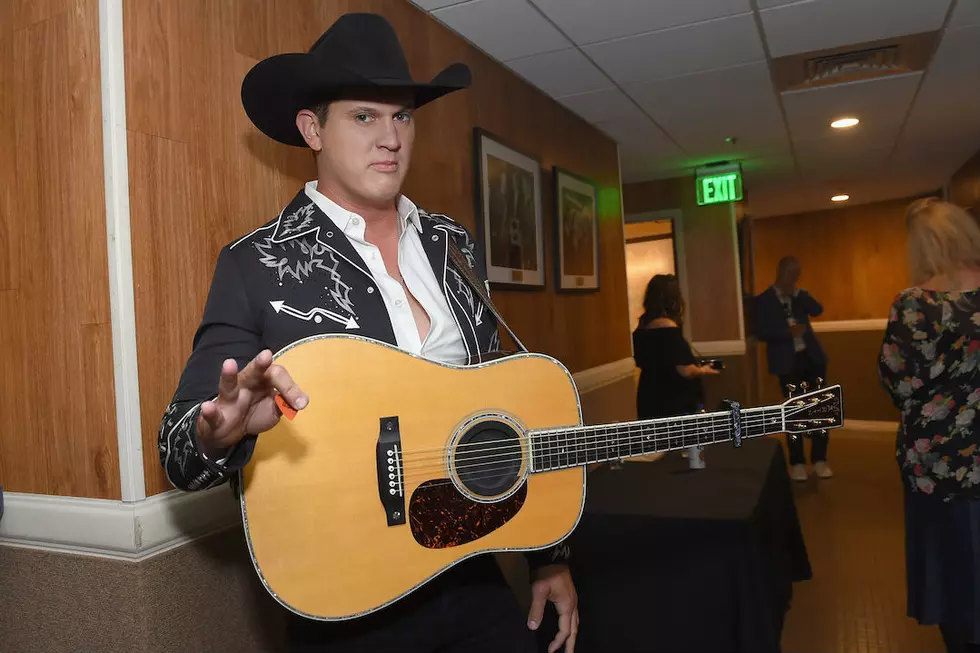 Jon Pardi's 'Ain't Always the Cowboy' + 6 More New Songs You Have to Hear [LISTEN]
Jason Kempin, Getty Images
Country artists shared love ballads, rockin' party anthems, songs of betrayal and much more this week. Read on to get all caught up on the newest song releases! 
Jon Pardi, "Ain't Always the Cowboy":
A forlorn ballad that flips the usual cowboy script on its head, "Ain't Always the Cowboy" is the latest taste of Jon Pardi's forthcoming album, Heartache Medication. In this track, the cowboy isn't the one who's restless and ramblin': Instead, the girl he loves is hopelessly free-spirited, even at the expense of a relationship worth sticking around for.
"That restless runnin', searchin' for something / Leavin' love in the dust of a midnight Chevrolet / It ain't alway the cowboy that rides away..." Pardi sings in the song's chorus. Heartache Medication is due out on Sept. 27. -- CL
Tyler Childers, "All Your'n":
Tyler Childers has shared the next new track off of Country Squire, his second studio album. "All Your'n" is a straight-forward love song that professes simple, lasting dedication. "I'll love you to my lungs give out / I ain't lyin' / I'm all your'n / You're all mine," he sings in the chorus. The song is the eighth and penultamite track on Country Squire, which is due for release on Aug. 2.  -- CL
Eli Young Band, "Break it In":
Ahead of the song's official July release to country radio, the Eli Young Band have shared their latest track, "Break it In." The group tells Taste of Country that the new song is all about the time, patience and work it takes to get something -- like perfectly fitting pair of blue jeans -- just right.
"I think after 20 years of being a band, we're feeling like we're just now getting this thing right..." Young says. "Sometimes the best things have a few dents and take some time." -- CL
Thompson Square, "Masterpiece":
When Shawna and Keifer Thompson of Thompson Square released their 2018 studio album, the birth of their son, Rigney Cooper Thompson, had been the biggest shift in their lives since they last put out a record. It seems only fitting, then, that the title track of that project -- "Masterpiece" -- is about the process of becoming parents, and how, despite the duo's many musical achievements, their son is the greatest accomplishment of their lives. Now, "Masterpiece" is officially the pair's next single, and will impact country radio on July 22. -- CL
Kelleigh Bannen, "Deluxe":
Kelleigh Bannen's "Deluxe" imagines a high-class love story, with lots of vivid imagery mixed in. In this relationship, Bannen and her hot date aren't scared to spring for the finer things in life, from tipping 22 percent after a buffet dinner to treating themselves to a motel room with A/C and cable TV.
"I just loved the idea for this song, about being a love with a little extra, and still being very relatable to so many people," Bannen explains in a press release. "I had the title for a while and finally was able to write and record it." -- CL
Whiskey Myers, "Die Rockin":
Country-flavored Texas rockers Whiskey Myers have shared the first glimpse into their upcoming self-titled album, which will be out in full in September. "Die Rockin'" is a foot-stomping barnburner complete with scorching guitars and an attitude to match.
"I wrote 'Die Rockin'' with the legendary Ray Wylie Hubbard and it really sums up this rock & roll life of ours. We're consumed by music and are such fans of the legends that came before us," the group's Cody Cannon tells Rolling Stone. "We're out there on the road and in the studio trying to pay homage to those greats that have inspired this generation while we strive to create some magic of our own." -- CL
Lillie Mae, "You've Got Other Girls for That":
"You've Got Other Girls for That" is the lead-off track of Lillie Mae's forthcoming second studio album, Other Girls. The song follows a character who is in a relationship, but soon discovers that though she may be exclusive with her partner, they're not exclusive to her. The singer tells Rolling Stone that the song's inspiration came from her real-life personal history.
"It's basically a true story," Mae explains. "It's just about somebody that was in my life that had other girls." The singer recorded Other Girls at Nashville's RCA Studio A, and the project was produced by Dave Cobb. -- CL