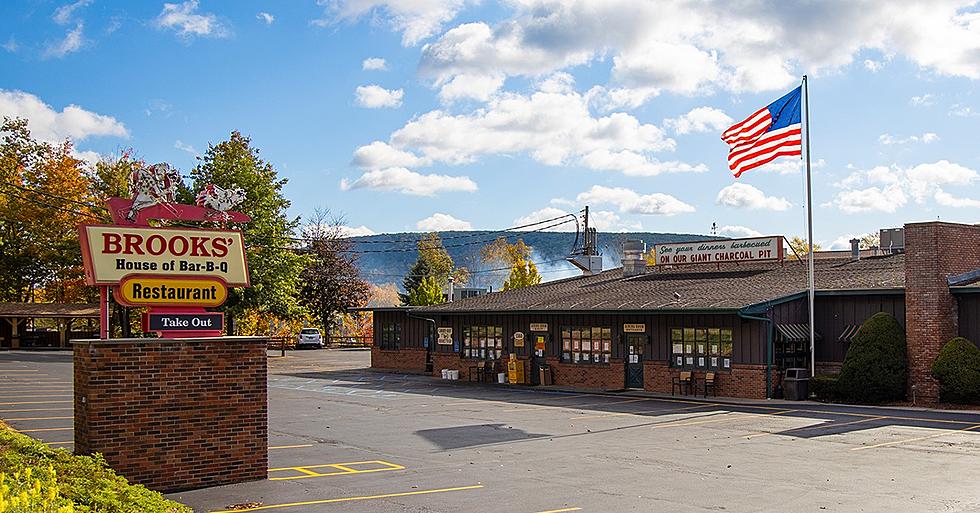 Brooks' House of Bar-B-Q Banks On New Buffet Model
Brooks House of BBQ via Facebook
Ah Brooks' House of Bar-B-Q. Across the generational strata, it's a place that locals and visitors hold near and dear to their hearts, taste buds, and noses. I can't remember the first time I ate there, but I do remember the numerous times I gathered around one of their tables and tucking into the sampler plate with items from the salad bar peppering the meal. It's where I started putting bacon bits on my macaroni salad. Don't judge.
As the pandemic rolled on, and the concept of dining out changed, Brooks' House of Bar-B-Q had to pivot and change along with the rest of the world, offering take out, and later having people order at the window and allowing them to sit at an indoor table and eat once restrictions were lifted. Sadly, table service of the past and the salad bar were not part of the equation until a recent Facebook post from the establishment announced a shift in the way they serve their customers.
Brooks' House of Bar-B-Q has moved to a buffet model for in house dining. Owner Ryan Brooks noted:
Currently we have our private catering services, the Brooks' Roost Banquet Room (our onsite banquet room), carryout and curbside and now The Buffet at Brooks' inside the dining room.

 
Barbecue and buffet, especially in the Deep South go hand in hand. During my time spent in the South Carolina Lowcountry, barbecue came from two places, a local gas station, or a buffet restaurant. This is not a new, or unique concept, but new to Brooks' House of Bar-B-Q.
Buffet prices range from $25-29 with the options of BBQ chicken, pulled pork, beef brisket, ribs, or salmon. Pick any two meats for $30 or three meats for $36. Along with the served entrée, diners are welcome to enjoy a hot bar with sides and the return of the salad bar. Coffee, tea, soft drinks, and iced tea are also included.
Owner Ryan Brooks added:
Since the pandemic, our industry has lost the most employees than any other segment and there are many other segments right behind the hospitality industry.  The reason for not going back to full service once we were able to open the doors was ONLY due to the fact that we could not get enough people out front to wait tables and do the job to have the best possible experience for our customers.  There was no other reason for the change in service style other than the lack of labor and this issue is still trending unfortunately.  With that said, my incredible managers, employees and I worked on a plan to open up with something everyone wants and that is the salad bar.  However, we as a team decided to take it to a whole different level and added the cold station (salad bar plus), a hot station, beverages and dessert items such as cookies, brownies, rice crispy treats and fresh fruit.  This stations are part of the served protein station.  So far the response has been very positive and honestly it is just very heartwarming to see all of the customers back in the dining room again.  One comment that truly stood out from yesterday was "Thank you, This is Oneonta".  We are still very short staffed and would love to have anyone apply that wants to join a dynamic team and family here at Brooks' BBQ.

 
Oneonta and Otsego County Barbecue Trail