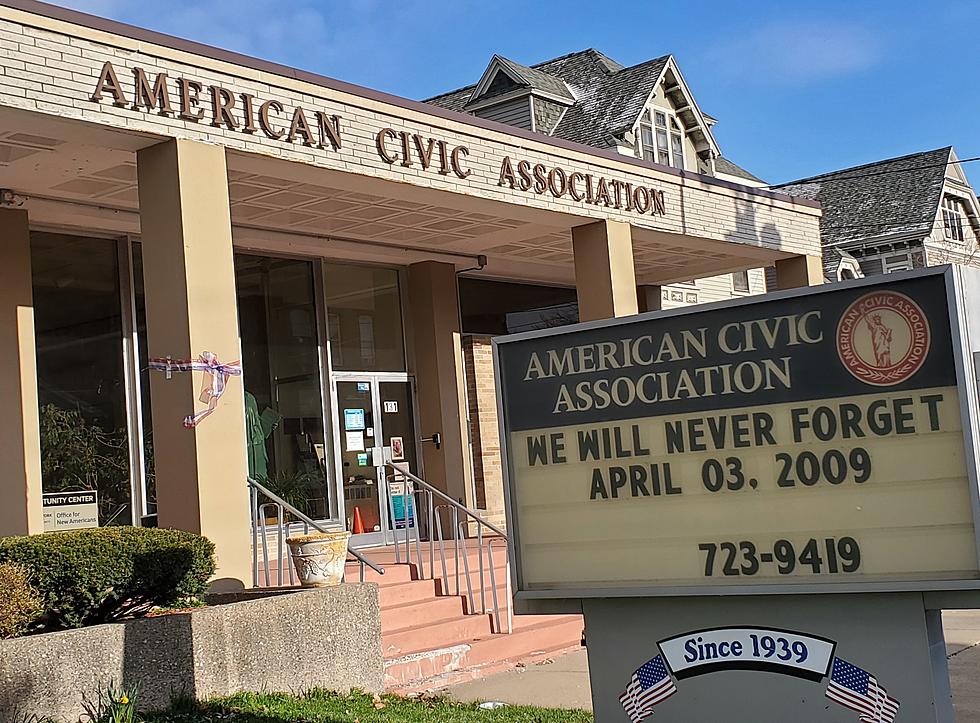 Binghamton's American Civic Association Massacre Remembered
(Photo: Bob Joseph/WNBF News)
April 3, 2009 is a date that is seared in Binghamton's history as one of the most painful, tragic days the Parlor City has ever endured.
It is the date a former student of the American Civic Association, a man who had used the ACA's services to assist him as an immigrant living in Broome County, opened fire mowing down 13 innocent students, faculty and staff before taking his own life.
The victims of the massacre are remembered every year with a small service at the ACA at 131 Front Street, Binghamton as well as every day at a small park at Front and Clinton Streets, yards from the scene of the tragedy, where each night a flock of illuminated glass birds, one for each of the victims, soars over a broken granite column and markers bearing the names of the fallen.
This year, the 13th anniversary of the mass-shooting, the Ukrainian flag flies along with the birds at the memorial park as the plight of immigrants and refugees is heightened with thousands of Ukrainian refugees fleeing the massacre of the Russian invasion of their country. Those refugees are finding comfort and help navigating in their new homes by agencies like the American Civic Association.
The ACA said it was opening its doors at noon April 3 for quiet remembrance and invited the public to join in Solidarity at the memorial on Front Street at 5 p.m.
View a video tour of the memorial park in 2021 here:
https://wnbf.com/video-tour-aca-memorial-park-12-years-after-tragedy/
THEN AND NOW: See the Evolution of the Southern Tier
Five Photos That Show Binghamton's Rich History