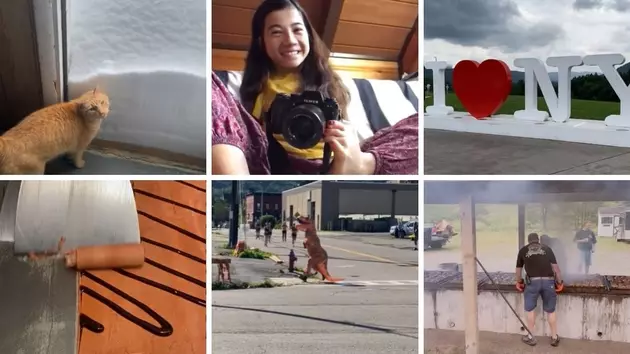 24 Broome County TikTok Videos That Are Spot On [WATCH]
Jeremiehoyt, brehopp1, Abigailfootography, kemposhot, Chiquechica, Vibes_rolled_ice_cream via Tiktok
The beautiful thing about TikTok is that there's a lot of information condensed into short videos with something for everyone.
No matter what you're into, you'll find it on TikTok but up until recently, I hadn't stumbled on a whole lot of TikTok videos that featured life in Broome County, and then one day - bam - I did and, it made me smile because there's something about seeing videos on a global platform and relating to them because they have something to do with home. Videos like:
When Okayletmeow Pointed Out the Truth About Our Forever Lingering Snow Season
When Jeremiehoyt Showed Us What Summer Is All About in Broome County and Was Spot On
When Itills Spoke the Truth About How Most People (Still) Feel About Our Former Governor
When Lyndsaylyndsaylyndsay Took Us Back to Childhood With a Carousel Ride
When Muckles Mesmerized Us With Their T-Shirt Folding Process
When We Knew What Was Coming in brehopp1's Video but Our Jaw Still Dropped
When Abigailfootography Showed Us That With Determination and Passion, Anything Is Possible
When Uniquejeff Made Us Wish We Were Part of This Dance Group
When Awylubski Looked Back at an Amazing Memory Made at Touch of Texas
♬ More Than My Hometown - Morgan Wallen
When Kemposhot Showed Off the New Visitor's Center We're All Proud Of
When Chiquechica Made Us Crack Up Over This Running T-Rex
When We Laughed at the End of breonabogart6's Video Because We Also Remember 48 Inches of Snow Making Us Want To Vomit
When We Couldn't Stop Nodding at Jacquelinegoodric's Video Because the Flooding Struggle Is Real
♬ original sound - Jacqueline Goodrich
When We Wanted To Track Down Joe_likes_science Just To Smile and Say Hello (Hello, Joe!)
When klaireee20 Discovered Cutler Botanical Garden and We Were So Happy for Her!
♬ Pieces (Solo Piano Version) - Danilo Stankovic
When Vibes_rolled_ice_cream Taught Us Something New – We Do Have Rolled Ice Cream in Binghamton
When anastasiya.645's Video Unknowingly Explained to Us Why Landlords Charge So Much for Rent in Binghamton
When Binghamtonu Shared a Video of a Mystery Man Singing About Binghamton and We Couldn't Stop Staring at His Beautiful Eyes
When We Just Shrugged When Stephaniepnw Mentioned Her Girlfriend Said Our Carousels Feel Cursed
When We Spit Out Our Coffee Coffee at Marliechann's Totally Accurate Description of What Binghamton Parents Drive
When Forkneatit Offered Up a Spiedie Marinade Recipe for Free
♬ Thot Shit - Megan Thee Stallion
When Realestatemillennial Hilariously Showed Us What Type of House People Live in Around Broome County
When brink.link Made Us Miss Summer Nights at the Fair
♬ original sound - BrinkLink82121
When Jbsouthee Reminded Locals Why We Avoid Downtown During SantaCon
Discover 17 Famous Musicians Who Have Ties to the Binghamton Area
The 10 Most Haunted Places in the Southern Tier of New York State