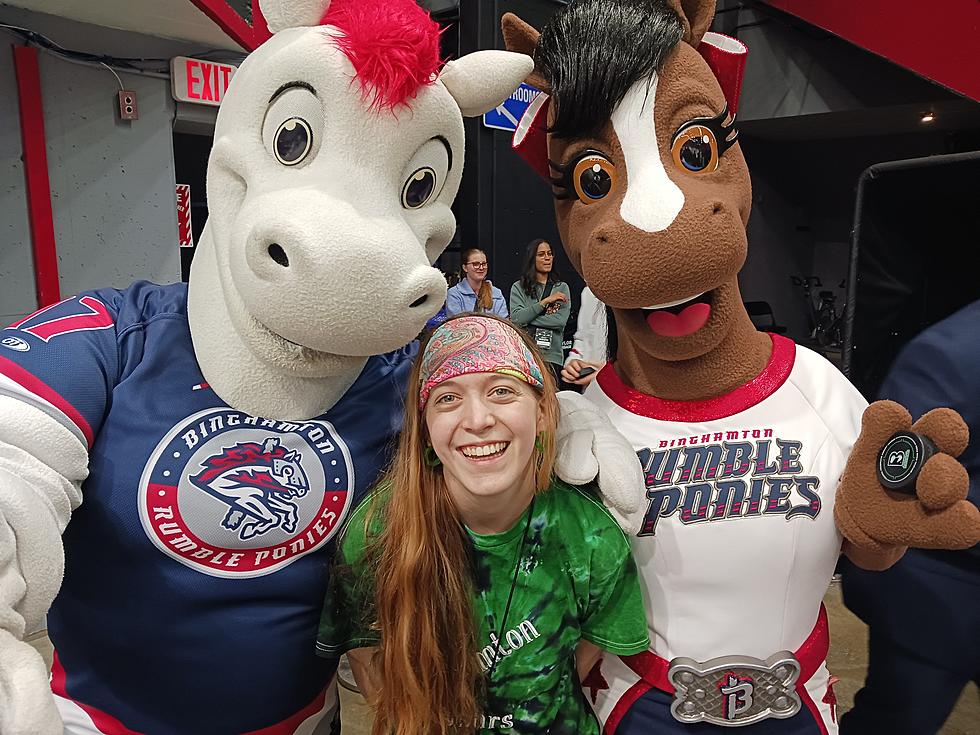 Binghamton Rumble Ponies Announces Name Of The New Mascot
Glenn Pitcher
Congratulations going out to the Binghamton Rumble Ponies. Last week, they were recognized  by the Tioga County Chamber of Commerce as their business of the month for the month of May. They were highlighted for their dedication to the community.
Binghamton changed their name to the Rumble Ponies since the 2017 baseball season. With the name change came a new mascot, the ever loveable Rowdy the Rumble Pony rode into town.
Rowdy is a mainstay in the community and if it's a big event, there's a really good chance that Rowdy will be there. Rowdy has been carrying the load alone, but no more.
Rowdy has invited his BFF to join him at Rumbletown to help him entertain the masses and their derrieres. If you've been to Mirabito Stadium for a baseball game, you've seen both of them galloping around the ballpark. However there was one little problem. Rowdy's BFF didn't have a name...until now.
Binghamton Rumble Ponies New Mascot
Just like in 2017, Binghamton let the fans help decide the name of the mascot. Some of the names included Mare-y and Sassy Sally. and now we know what the name is. The name of Rowdy's BFF is...Ruby!
Ruby is now the second official mascot of the team and you can keep up with her on her own FB page. The Binghamton Rumble Ponies would like to thank everyone that participated in the contest and helping to welcome Ruby to Rumbletown.
Apparently Ruby is good luck for the Rumble Ponies because the first day with her new name was a WIN for the team. Binghamton goes yard against the goats with two home runs and a 9-2 victory. The next chance that you'll have to meet Ruby won't be until Tuesday, May 23rd when Richmond flies into town for six in a row at home.
LOOK: MLB history from the year you were born
Stacker
compiled key moments from Major League Baseball's history over the past 100 years. Using a variety of sources from Major League Baseball (MLB) record books, the Baseball Hall of Fame, and audio and video from events, we've listed the iconic moments that shaped a sport and a nation. Read through to find out what happened in MLB history the year you were born.
Peek Inside Billy Martin's Private Lake House