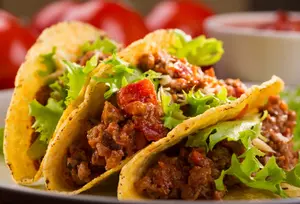 Thinkstock, Nikolay Trubnikov
Everyday there seems to be another Nation (Insert Whatever You Want) Day, and it can get tiresome. Some of these national holidays can become absurd, like National Don't Cry Over Spilled Milk Day. But, if anything ever needed a national holiday, it's that glorious layered beef, cheese, and veggie concoction: the taco!
That's right today October 4th, is National Taco Day, and I couldn't be happier. As I walked to get yet another coffee today, I saw tons and tons of taco specials all around downtown Binghamton. There is no shortage of places to get your celebration on this evening.
The taco is the perfect food. It actually contains almost every single food group! We've got meat, dairy, vegetables, grains, fats, sugars in the salsa, it gets the job done.
I also love tacos because they take on many forms, some of which makes you feel less guilt. A taco can be considered a meal or a snack, which means you can sit down for three to four tacos and call it a "snack" and not feel any guilt, or eat the same number of tacos and call it a meal. It truly is a transforming food.
Tacos are also there for you during anytime of the day. Want to spice up your morning? Sausage, bacon, eggs, and salsa on a tortilla will give you a breakfast taco. Want a light lunch? Try a fish taco with mango salsa. Maybe you need a snack? Taco Bell has taco 12-packs readily available. Hungry after dinner? Try an amazing invention: the Choco-Taco. Maybe you've had a long night celebrating? There is guaranteed to be a late night taco spot nearby.
Americans eat about four billion tacos a year, so we clearly see how tacos always help us out in a bind. We love tacos! Go out tonight and celebrate the perfect food, the taco.
It also doesn't hurt that tacos go extremely well with margaritas.