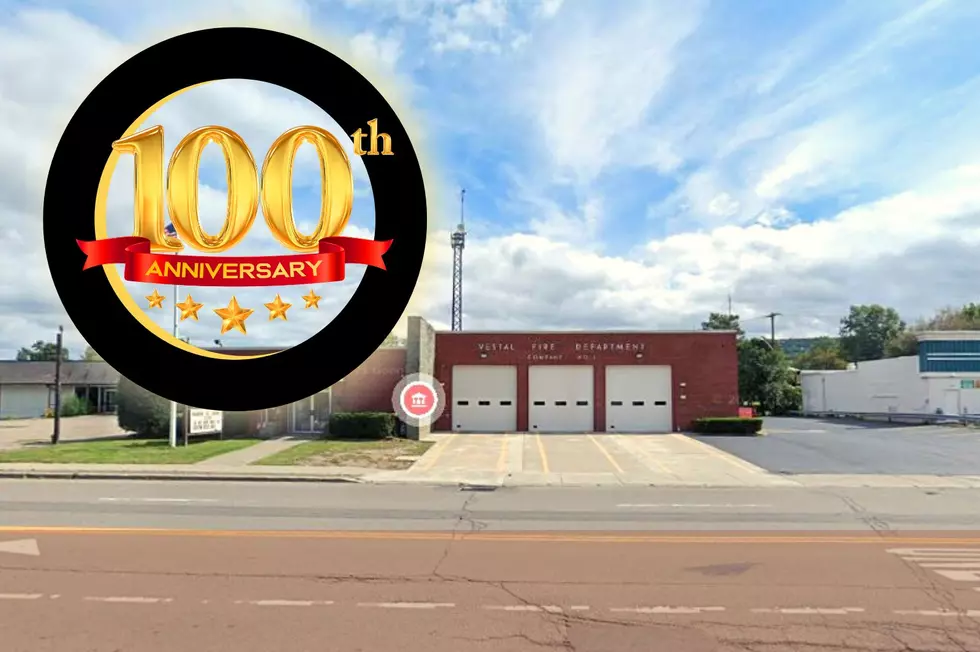 Vestal Fire Station Marks 100 Years and You're Invited to the The Party
Google Maps/Canva
For an incredible 100 years, the Vestal Fire Station Number One has been serving and protecting the residents of Vestal and beyond when called in.
Vestal Fire Station #1 was officially incorporated on January 3, 1922 which made it the very first ever fire company in the Town of Vestal.
The first fire station in Vestal was built in 1924 just to the south of the current Station One building on North Main Street and it came with a price tag of $11,114.
The very first piece of equipment purchased by the fire company was an American LaFrance triple chemical pump which was mounted on a Brockway chassis. The purchase was a hefty one at $3,500 and was was made possible thanks to the efforts of firefighters who hosted fundraising events such as dinners, dances, and even went door-to-door to ask people for donations.
For the next 38 years, the fire station would serve as home to the Vestal Fire Station #1 until October 20, 1962 when a new Station One building was dedicated just down the road from the old building. This new building has housed the Vestal Fire Station #1 for the last 60 years.
On January 25, 1938, a meeting was called to discuss opening up another fire company for Vestal as the need had grown and at this meeting, a decision was made to form Company #2.
To celebrate 100 years of service to the Southern Tier, the Vestal Fire Station #1 is inviting the community to visit the fire house at 116 North Main Street in Vestal's Four Corners on Saturday, August 13 between noon and 5:00 p.m. There will be live auto extractions, food, and more.
Then and Now of Businesses Around the Southern Tier
Growing Or Shrinking? Your Town's Latest Population in New York's Southern Tier
Is the Southern Tier getting bigger or smaller? Take a look. All information comes from the 2020 Census
Best Reactions To People Finding Out That Spiedies Exist
The Twitter account "
Regional American Food
" recently featured the Southern Tier's humble spiedie, exposing its 87K+ followers to the delicious treat. Here are some of the best reactions to people finding out what they are.