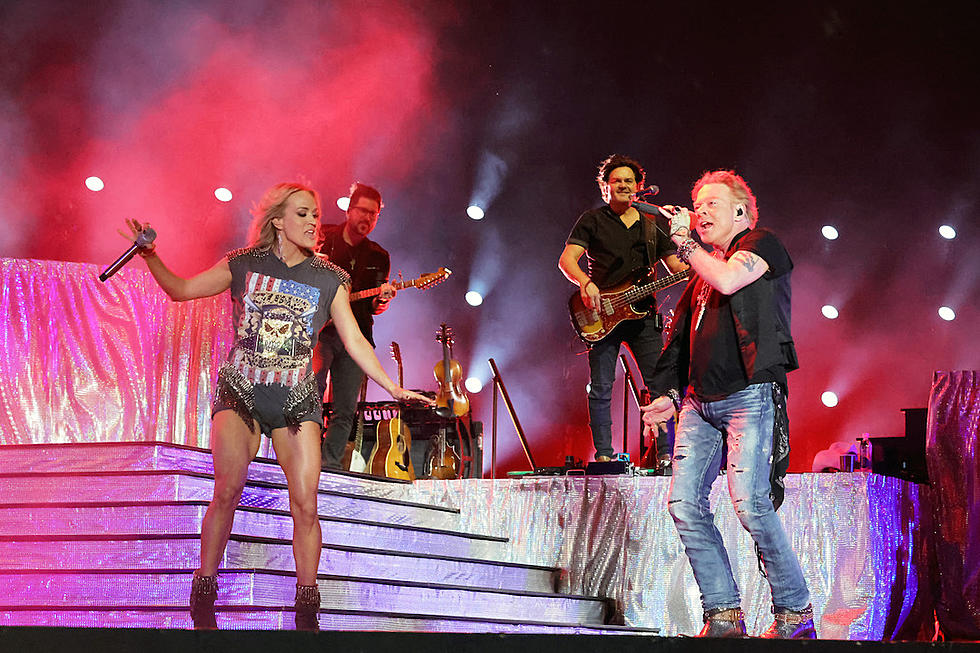 Carrie Underwood to Join Guns N' Roses for Three Shows in August
Amy Sussman, Getty Images
Carrie Underwood is saddling up for a reunion with some legendary rockers. She's scheduled to join Guns N' Roses for three stops on their 2023 North American tour this August.
"SO ready for this!" Underwood wrote when she shared the news on social media. "...I CANNOT WAIT!"
Underwood's stint with Guns N' Roses will last for three dates spread throughout the month. Two of those are at Canadian shows, in Moncton, New Brunswick, on Aug. 5, and Montreal, Québec, on Aug. 8. The third and final show is a hometown stop for Underwood: She'll take the stage with the rock outfit in Nashville, Tenn., on Aug. 26.
While they might seem like an unlikely pairing, the two acts have shared the stage on several prior occasions. Underwood was a surprise guest during Guns N' Roses' London tour stop in July 2022, and the country star brought out Guns N' Roses frontman Axl Rose during her Stagecoach set that same year.
Underwood has long been vocal about her love of Guns N' Roses and rock in general; she brought Joan Jett to the stage during her 2019 CMA Fest performance to perform a medley of Jett's hits. When she first performed with Rose at Stagecoach, Underwood said that duetting with the rock legend was a "lifelong dream come true."
It'll be a busy summer for Underwood, who is also gearing up for a 2023 leg of her Reflection residency in Las Vegas. That show, which launched in late 2021, is set to resume in June.
See the Top 50 Carrie Underwood Songs — Who Should Be No. 1?