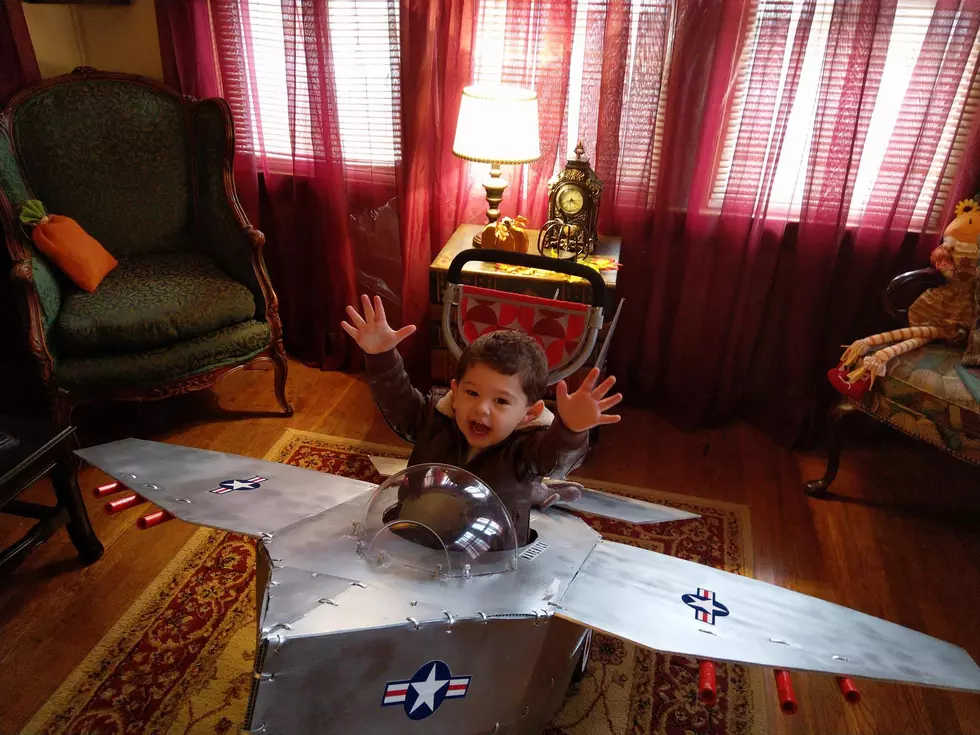 Fly Into the Danger Zone and Turn Your Toddler Into a Top Gun for Halloween
Traci Taylor
Halloween is a fun time for my little family because it's when my husband and I are really able to let our creative sides show by making a super fun costume for our son. We're totally soaking up these younger Halloween years with John because we don't know if he'll want us to keep making costumes for him when he gets bigger. I mean, we hope that he will, but if he doesn't we'll totally respect his decision.
For his first Halloween, John was a "baby Beethoven." My husband and I found a wig, a white oxford shirt, a black jacket, and some fabric to use as an ascot. Then, we draped John's stroller with a black sheet. We attached a keyboard to the stroller and hid a wireless speaker in the bottom. As we walked around, John pounded on the keyboard (which wasn't turned on) while Beethoven's 5th Symphony played through the wireless speaker.
For John's second Halloween, my husband and I transformed him into Carl Fredricksen, the elderly man from the movie, "Up." To create this costume, we found a woman's short grey wig and bought a walker from a local thrift store. We sawed the legs down on the walker to make it the proper height and then cut tennis balls and attached them to the bottom of the walker. Then, we dressed John, plopped the wig on his head, tossed on a pair of glasses. We bought some colorful balloons and tied them to a belt loop on the back of John's pants. Perfection!
For his third Halloween, John channeled Maverick, the character that Tom Cruise portrayed in the movie, "Top Gun," which believe it or not, my husband hadn't seen until he got the idea to build a jet for John. I need to brag for a minute and tell you that my husband didn't use a template to make the jet- he eyeballed everything, changing things as he went along so that it would fit over the top of John's handled trike.
The jet was made using 24"x36" plastic sheeting and zip ties. Red painted wooden dowels were used to keep the wings elevated and also to mimic red flames. The thrusters were made out of the ends of dryer hoses, and the window to the cockpit was just an ordinary Dollar Store plastic bowl that we cut in half. The lights were orange battery-operated Halloween lights which were zip-tied into the thrusters.
The entire jet was spray-painted in metallic silver and then after the jet was spray painted, Jay used letter stickers to spell out the words "Maverick," and "Goose." And yes, he even created a spot for Goose (a stuffed animal) to sit (zip tied) right behind John's seat. The Navy stickers came via Amazon as did the black knight chess piece sticker. The shield was spray-painted on the wing by hand and not by my hand, by my husband's. Click on the arrows to scroll through and check out all of the photos!
John's outfit was a white undershirt, a pair of jeans, a bomber jacket, brown boots, aviator glasses that we found at a thrift store, and dog tags.
The only tools used to make the jet were a drill and a hand saw. Of course, Jay also used a pencil, ruler, and scissors, but most people have those supplies in their home. In all, we spent well under $40 making the jet and putting together the costume. If you don't have spray paint, Halloween lights, zip ties, and plastic sheeting laying around as we did, it might cost you a bit more.
This is one of those times that my craft project supply hoarding came in handy! Oh, and one more thing- when we took John out in his full getup, we tucked a wireless speaker in the bottom of his trike and played "Danger Zone" on repeat. We know it's not the official theme song for Top Gun, but it's the one most people associate with the movie, at least the people we surveyed.

If you're wondering why we would pour so much into a costume for just one night, we actually found a way to recycle it. After Halloween, we modified the jet to make it less Hollywood and more real life. We took the Maverick and Goose stickers off and turned John and his Navy jet into mascots for the Twin Tiers Honor Flight, a non-profit organization which takes local veterans to their war memorials in Washington, D.C. The jet has been used at parades and events through the year for the last two years.