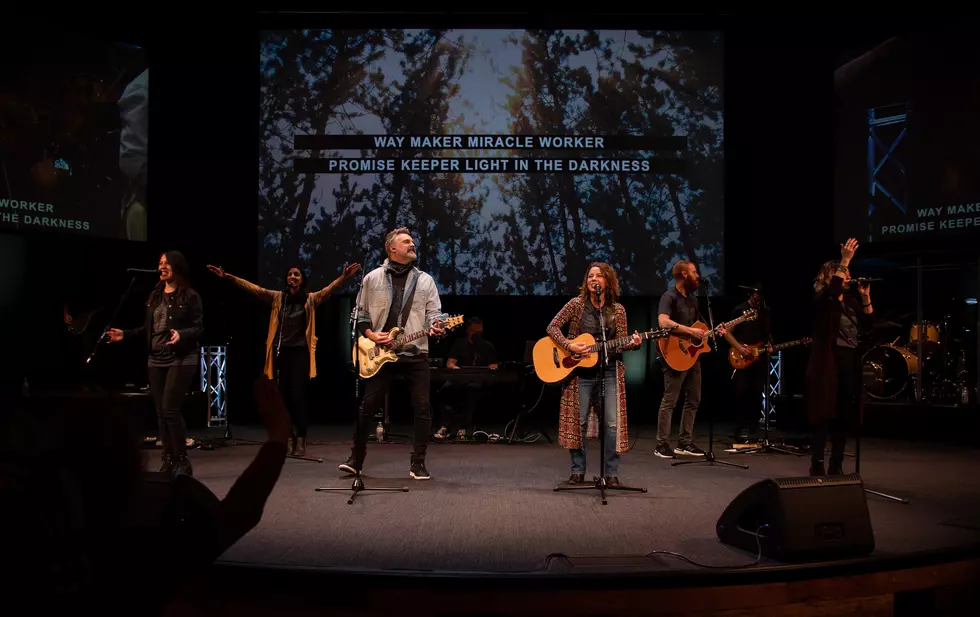 These Non-Traditional Easter Worship Songs Will Have Your Toes Tapping
Mariah Solomon via Unsplash
Raised in a Christian household, I was the granddaughter of a pastor, and weaving worship songs into our daily lives was certainly not uncommon. Music was and always has been how I feel the deepest connection to everyone and everything.
My grandpa was the pastor of the church that I attended as a kid. A Navy veteran, his forearms were covered in tattoos from his days in the service but Pop never covered them up. He was embarrassed by them, but never hid them because he wanted people to know that no matter where life had taken them, they were always, always welcome "home."
My favorite part about attending church was the worship service and singing songs like Great Is Thy Faithfulness, Just As I Am, Battle Hymn of the Republic, and of course, Christ the Lord Is Risen Today which is, to this day, my favorite Easter song.
When my grandpa left pastorship due to health reasons, we switched to a more subdued church and that was a massive culture shock. I'd spent my early years in a church where we sang from the bottom of our bellies and where the pastor had tattoos. At our new church, the pastor wore robes, the songs were so boring that I felt like I was a singing monk, and any bodily expression of joy was most definitely frowned upon.
By the time I'd grown up and moved away from home, I decided that attending a structured and boring church just wasn't for me because it did nothing to lite a fire inside of me and so I spent years church-hopping until finding one that felt like my "home."
So many people stay in the church they were raised in, but if you're not growing and don't feel electricity running through your veins when you think about your church and if it feels like more of an obligation to attend, if you walk away from the sermon feeling more asleep than alive, you're not in the right church. It might take visiting dozens to find your home, but once you do, the feeling is indescribable.
Some people prefer traditional church songs, especially when it comes to Easter and while I do like some of the classics, there are some modern Easter worship songs that move me in incredible ways. These are some of my favorite modern-day Easter "church" songs.
Death Was Arrested- North Point InsideOut ft. Seth Condrey
I remember the first time I heard this song and I was scared to tell my mom how much I love it because I thought she'd think it was too "wild," but then when I worked up the nerve to send the video to her and tell her that it's one of my favorites, I was shocked when she revealed that it was one of hers, too.  The song REALLY gets me at 2:13 as it rolls into something so beautiful that you have to see and hear with your own eyes and ears.
Rattle- Elevation Worship
I was initially on the fence about this song until I listened to it no less than a dozen times and really let the lyrics soak in. Now, it's one of my favorite Easter worship songs. This song makes me want to run, jump, shout, and LIVE.
Glorious Day (Live) - Passion ft. Kristian Stanfill
It's so easy to let depression, anxiety, and life worries in general, take hold of us and when I'm feeling suffocated by life, I listen to this song because "I have a future, my eyes are open, 'cause when you called my name...I RAN OUTTA THAT GRAVE!!!"
This Is Amazing Grace- Bethel Music (Live from the Sea of Galilee)
I find that I'm drawn to songs that have lyrics that leave me thinking long after the song has ended. There's a line in this song that makes me think every time I hear it, "what other king leaves his glory to die?"
Scandal Of Grace (I'd Be Lost) - of Dirt and Grace - Hillsong UNITED
While this song isn't as rocking as some of the other songs, there's something so powerful about the lyrics and it is such a fitting Easter worship song with the words, "Grace, what have You done? Murdered for me on that cross, accused in absence of wrong. My sin washed away in Your blood."
Who You Say I Am - Hillsong Worship
Easter is about remembering that Jesus died on the cross to save all of us. He believes all of us to be deserving of forgiveness and grace. The tears flow heavy whenever I hear this song.
Reckless Love of God- Cory Asbury
This is not an Easter worship song, at least I've never heard it sung during an Easter worship service, but I couldn't share some of my favorite songs with you without including this one. For several years, I struggled with the hypocrisies displayed by church people and awful feelings that sometimes people who go to church can make it feel like a cross between a cult and a snobby club. The day that I realized that I was letting the actions of others stop my personal growth with the only One who matters is the day that I realized that it was me who was like the lost sheep and that I had been rescued.
Here Is How To Blur Your Home On Google Street View
LOOK: The most popular biblical baby names
KEEP READING: See the richest person in every state