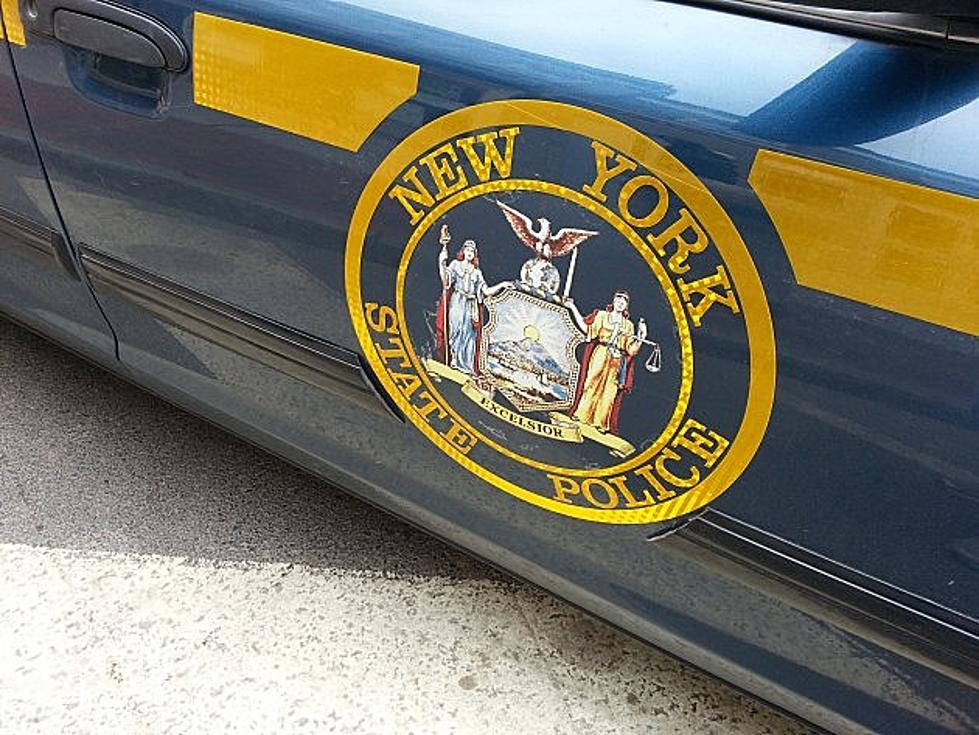 23-Hour "Incident" Closes State Rt. 7 in Oneonta
Photo: Bob Joseph/WNBF News (file)
New York State Police investigate an incident that closed a road in the Town of Oneonta for 23 hours.
UPDATE: 
An Oneonta man is being charged with over a half dozen felony counts following a 23-hour standoff that shut down a State Highway in Oneonta over the weekend,
New York State Police say 28-year-old Tyler Burr was accused of being involved in a theft from the Price Chopper supermarket on June 20 and reportedly threatened officers with a bow and arrow Saturday when Troopers tried to talk to him.
Authorities say they went to a home on Emmons Hill Road in the Town of Oneonta just before 8 p.m. July 16 when Burr aimed a bow and arrow at them and then shot in their direction.
State Police and Otsego County Sheriff's officials established a perimeter, State Route 7 and Emmons Hill Road were closed down. The New York State Police Special Operations Response Team and NYS Police Bureau of Criminal Investigation responded to the scene.
Authorities say Burr attempted to flee the home shortly after 7 p.m. Sunday, July 17 and was taken into custody.
Burr is charged with four counts of felony Menacing a Police Officer, three counts of felony Criminal Mischief in the Second Degree and felony Burglary in the Third Degree in connection with the June 20th theft from the Price Chopper.
Investigators say more charges are possible.
Original report:
A news release issued by New York State Police Troop C Headquarters in Sidney on Sunday, July 17 only said that State Route 7 has reopened. "No injuries were sustained. New York State Police thank the public for their cooperation and patience over the past 23 hours." Police had said there was no threat to the public but gave no other information about why they closed the road Near Emmons Hill Road to the Price Chopper parking lot.
Bob Joseph/WNBF News [file][/caption]
The original news release issued by State Police on Saturday, July 16 only reported troopers were on the scene of "an on-going investigation in the Town of Oneonta." Troopers asked the public to avoid the area of State Route 7 near Emmons Hill Road.  The Road was closed up to the supermarket and the statement also said Emmons Hill Road was closed and a detour funneling traffic onto Hillside Drive was in place.
The official update posted by the New York State Police on Sunday promised more details into the ongoing investigation, now over 24 hours old, could be expected sometime Monday, July 18.
CNY News reported the area in question was near the Farmhouse Diner and the road was blocked since about 7 p.m. on Saturday, July 16.
Route 7 was closed at the Interstate 88 exit 15.
There was some speculative chatter concerning the police activity on social media but no official information from New York State Police or local authorities concerning the nature of the incident.
LOOK: What 25 Historic Battlefields Look Like Today
The following is an examination of what became of the sites where America waged its most important and often most brutal campaigns of war. Using a variety of sources,
Stacker
selected 25 historically significant battlefields in American history. For each one, Stacker investigated what happened there when the battles raged as well as what became of those hallowed grounds when the fighting stopped.
These are the battlefields that defined the United States military's journey from upstart Colonial rebels to an invincible global war machine.
Add These To Your Southern Tier Bucket List